About Us
We are Manufacturer of Only more than 51 MICRON Food Packing bags With Multly Colour Printed by 100% Pure Food Grad Plastic Granules As per Government Rules.
Since 2001 work in all India and multibrands / Proprietorship / ISO 9001-2008. KRISHNA POLYMERS is one of the pioneers in the industry, it is our constant endeavour to ensure the highest quality products at the most competitive rates. The firm adheres to quality guidelines in all stages of production. A thorough inspection during production enables us to provide tailor made solutions to the customer's requirements. More Information
We have a thorough knowledge and vast experience in manufacturing and supplying of & Multi Layer Pouches,
We are among the reputed organizations, highly engaged in &manufacturing an optimum quality
We are offering an assortment of LD Bags that are made of high quality vendors. &material sourced for trusted
To grow, develop and establish ourselves into a corporate identity that is customer-oriented, employee-friendly and socially-conscious in all its activities and initiatives. And thus create a niche market as a highly-visible brand name and actively going into expansion mode with the aim of becoming a most trusted and preferred partner. . To become No. 1 Solution in the whole Plastic bags and Packaging Industry in India.
To serve the industry with most innovative and profitable products harnessed from all over the Globe. To fulfill our commitment that we make with our clients to give them best of the quality products and services at most appropriate prices. To make enough profit for the company which enable us to stand firm on our above missions.
What We Do
Our company use only Reliance Industries Ltd. recyclable plastic granules it is 100% pure vergine for food products.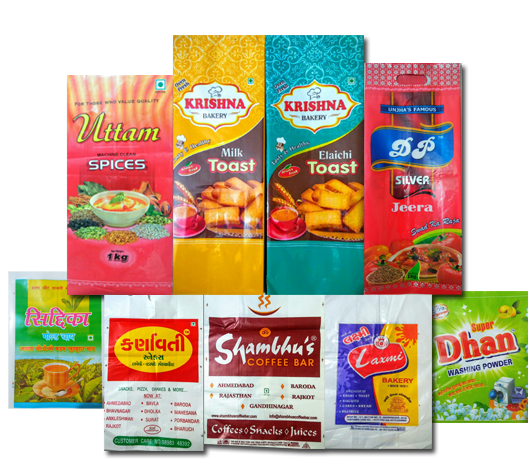 PLASTIC LAMINATED POUCH

PLASTIC LAMINATED-MULTILAYER POUCH